Case study for marketing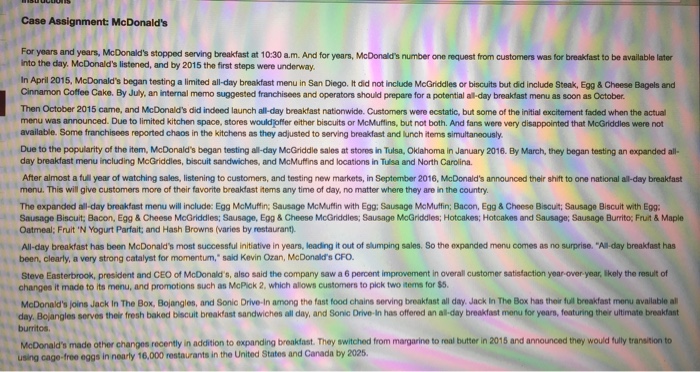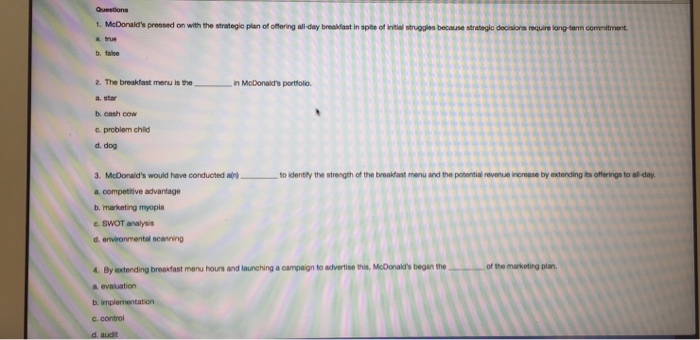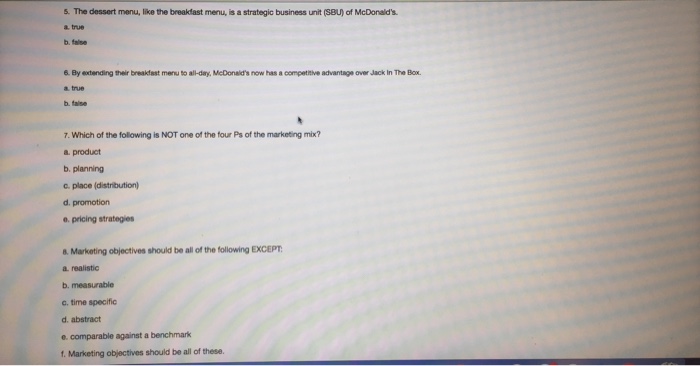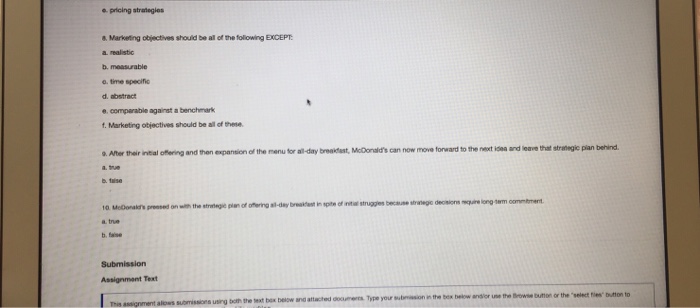 Case Assignment: McDonald's For years and years, McDonald's stopped serving breakfast at 10:30 a.m. And for years, McDonald's number one request from customers was for breakfast to be available later into the day. McDonald's listened, and by 2015 the first steps were underway. In April 2015, McDonald's began testing a limited all-day breakfast menu in San Diego. lt did not include McGriddles or biscuits but did include Steak, Egg &Cheese Bagels ard Cinnamon Coffee Cake. By July, an internal memo suggested franchisees and operators should prepare for a potential all-day breakdast menu as soon as October. Then October 2015 came, and McDonald's did indeed launch all-day breakfast nationwide. Customers were ecstatic, but some of the initial excitement faded when the actual menu was announced. Due to limited kitchen space, stores wouldjoffer either biscuits or McMuftins, but not both. And fans were very disappointed that McGriddles were not available. Some franchisees reported chaos in the kitchens as they adjusted to serving breakfast and lunch items simultaneously. Due to the popularity of the item, McDonald's began testing all-day McGriddle sales at stores in Tulsa, Oklahoma in January 2016. By March,they began testing an expanded all- day breakfast menu including McGriddles, biscuit sandwiches, and McMuffins and locations in Tulsa and North Carolina. After almost a full year of watching sales, listening to customers, and testing new markets, in September 2016, McDonald's announced their shift to one national all-day breakfast menu. This will give customers more of their favorite breakfast items any time of day, no matter where they are in the country The expanded all-day breakfast menu will include: Egg McMuffin, Sausage McMuffin with Egg: Sausage McMuffin, Bacon, Egg&Cheese Biscuit; Sausage Biscuit with Egg: Sausage Biscuit; Bacon, Egg & Cheese McGriddles; Sausage, Egg& Cheese McGriddles; Sausage McGriddles; Hotcakes; Hotcakes and Sausage; Sausage Burrito; Fruit & Maple Oatmeal; Fruit 'N Yogurt Parfait; and Hash Browns (varies by restaurant) All-day breakfast has been McDonald's most successful initiative in years, leading it out of skumping sales. So the expanded menu comes as no surprise. "All day breakfast has been, clearly, a very strong catalyst for momentum, said Kevin Ozan, McDonald's CFO Steve Easterbrook, president and CEO of McDonald's, also said the company saw a 6 percent improvement in overall customer satisfaction year-over year, ikely the result of changes it mnade to its menu, and promotions such as McPick 2·which alows customers to pick two nerns for so. McDonald's joins Jack In The Bo Bo angles, and on c Drive-in among the fast food chains serving breakfast all day. Jack n The Box ha tee la bnarast iw a lable al day. Bojangles serves their fresh baked biscuilt breakfast sandwiches all day, and Sonic Drive-In has offered an all-day breakfast monu for years, featuring their ultimate breakfant burritos McDonald's made other changes recently in addition to expanding breakfast. They switched from margarine to real butter in 2015 and announced they would fully transition to using cage free eggs in nearly 16,000 restaurants in the United States and Canada by 2025
Expert Answer
PLEASE FIND ANSWERS TO FIRST 4 QUESTIONS :
Answer to question 1 :
Don't use plagiarized sources. Get Your Custom Essay on
Question & Answer: Case Assignment: McDonald's For years and years, McDonald's stopped serving breakfast at…..
GET AN ESSAY WRITTEN FOR YOU FROM AS LOW AS $13/PAGE
Mcdonald's pressed on with the strategic plan of offering all day breakfast in spite of initial struggles because strategic decisions require long term commitment : TRUE
Answer to question 2 :
As per BCG matrix, Both the Dogs and Cows are the segments with low growth rate. Since the breakfast Menu has witnessed a high growth rate, these tow options are eliminated
Problem child is the segment with Low market share and high growth rate. Star is the segment with high market share and high growth rate. It is mentioned that Mcdonald's joins Jack in the box, Bojangles and Sonic Drive-In among the fast food chains serving breakfast today. Thus Mcdonald's competitors are already established payers in the market and Mcdonald's relative market share currently in all day breakfast menu is small. Therefore , we should consider the all day breakfast menu as "Problem Child"
THE BREAKFAST MENU IS THE PROBLEM CHILD IN MCDONALD'S PRTFOLIO
Answer to question 3 :
SWOT analysis stands for Strength- Weakness-Opportunity- Threat Analysis. Analysis of "Strength" would help Mcdonald to identify strength of the breakfast menu and analysis of "Opportunity" would help Mcdonald to analyse potential revenue increase by extending the offering to all day.
MCDONALD'S WOULD HAVE CONDUCTED A SWOT ANALYSIS TO IDENTIFY THE STRENGTH OF THE BREAKFAST MENU AND POTENTIAL REVENUE INCREASE BY EXTENDING THE OFFERING TO ALL DAY
Answer to question 4:
BY EXTENDING BREAKFAST MENU HOURS AND LAUNCHING A CAMPAIGN TO ADVERTISE THIS , McDONALD'S BEGAN IMPLEMENTATION OF MARKETING PLAN