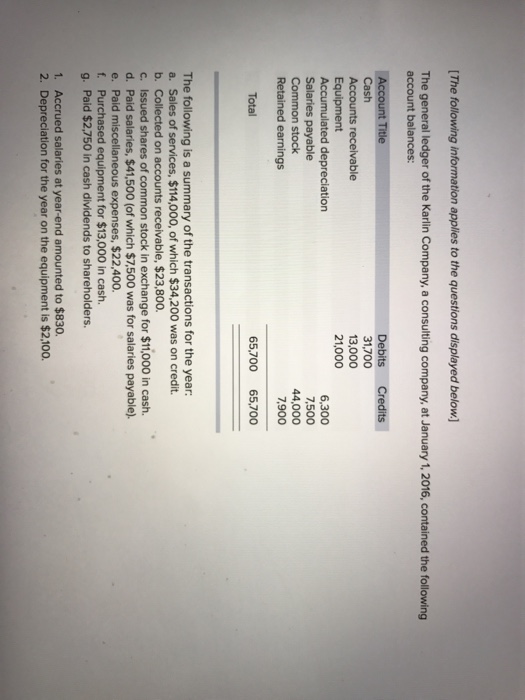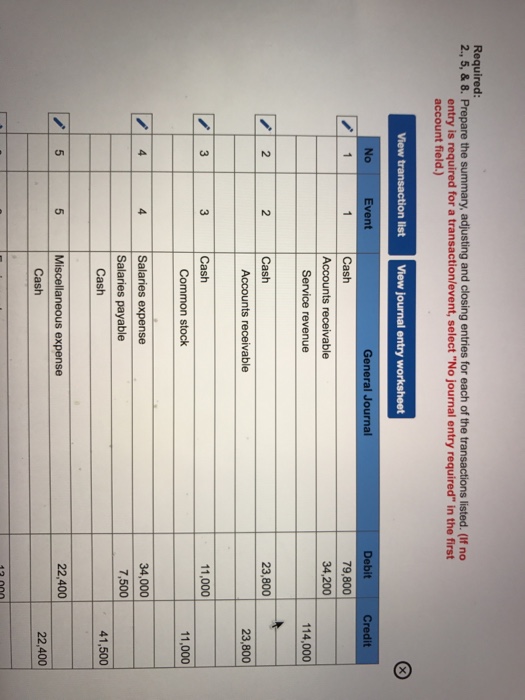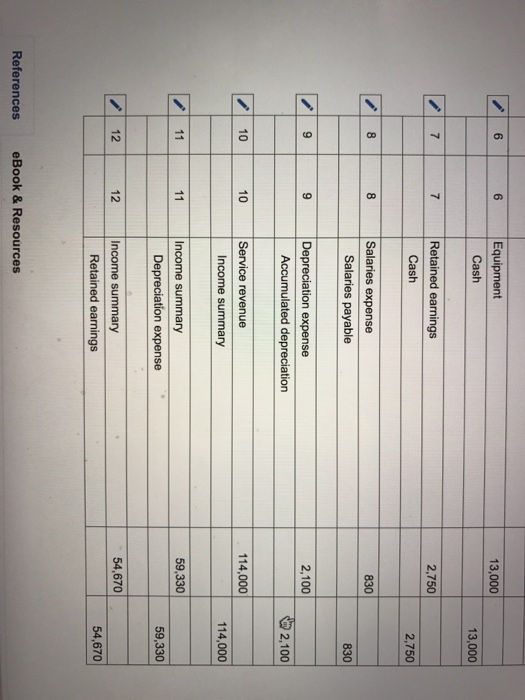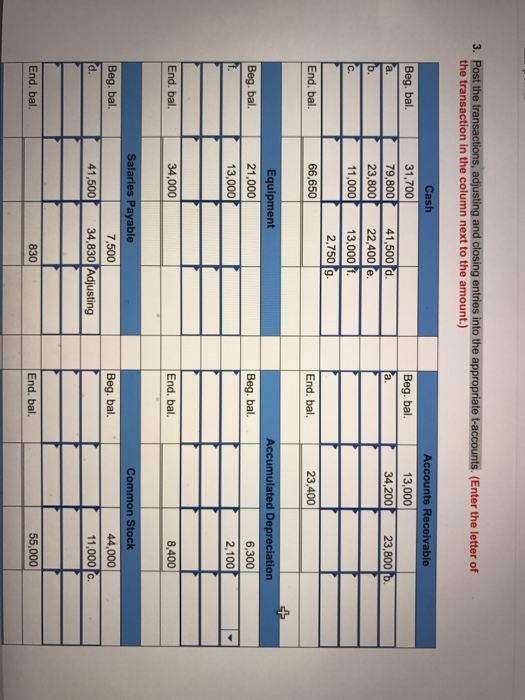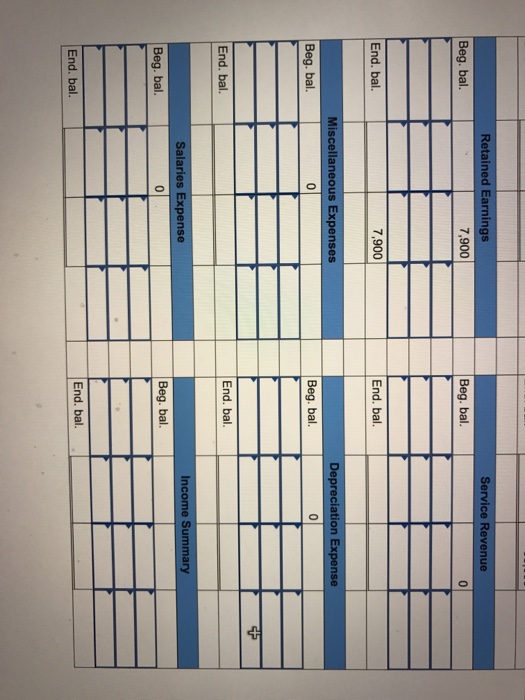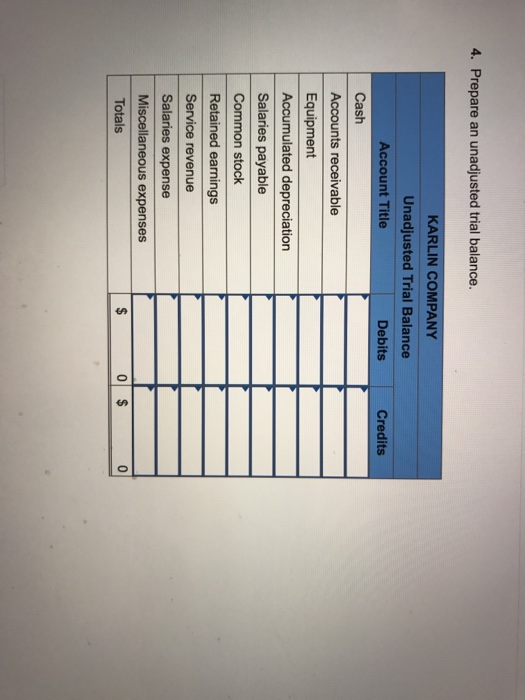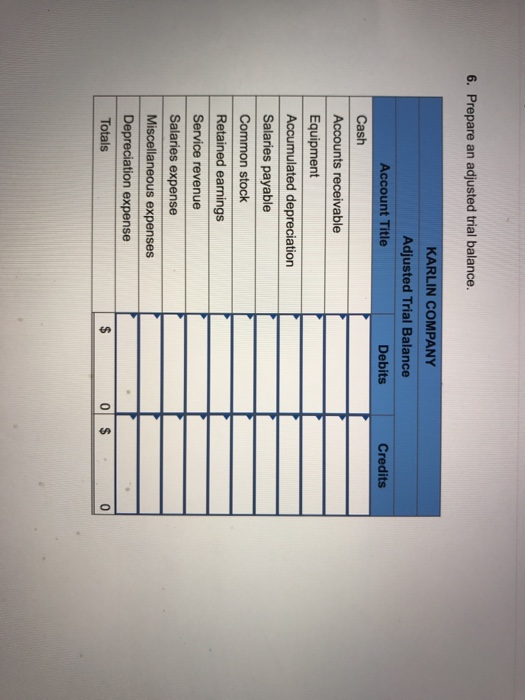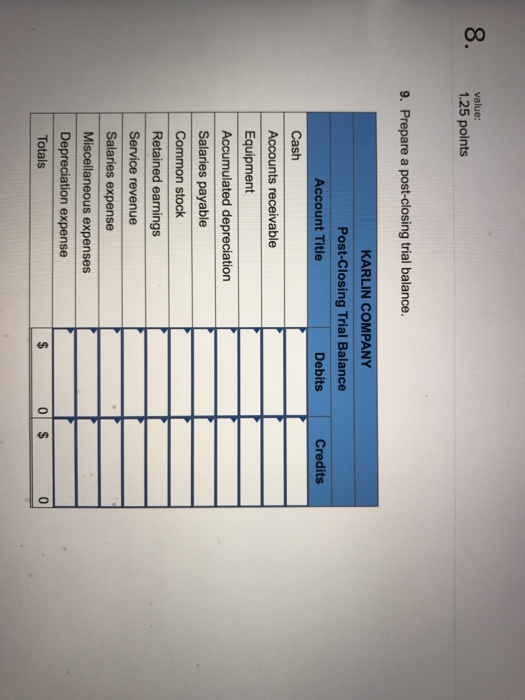 This is the complete question. Please help as soon as possible. It's due soon!
The following information applies to the questions displayed below.] The general ledger of the Karlin Company, a consulting company, at January 1,2016, contained the following account balances: Cash Accounts receivable Equipment Accumulated depreciation Salaries payable Debits 31,700 3,000 21,000 6,300 7,500 44,000 7900 stock Retained earnings Total 65,70065,700 The following is a summary of the transactions for the year: a. Sales of services, $114,000, of which $34,200 was on credit. b. Collected on accounts receivable, $23,800 c. Issued shares of common stock in exchange for $11,000 in cash. d. Paid salaries, $41,500 (of which $7,500 was for salaries payable). e. Paid miscellaneous expenses, $22,400. for $13,000 in cash. g. Paid $2,750 in cash dividends to shareholders. 1. Accrued salaries at year-end amounted to $830. 2. Depreciation for the year on the equipment is $2,100.
Expert Answer
Journal entries are shown below.
Don't use plagiarized sources. Get Your Custom Essay on
Question & Answer: This is the complete question. Please help as soon as possible. It's due soon!…..
GET AN ESSAY WRITTEN FOR YOU FROM AS LOW AS $13/PAGE
KARLIN COMPANY
Sl.No.
Event
General Journal
Debit
Credit
1
a
Cash
79800
Accounts receivable
34200
Service revenue
114000
(Service revenue accounted)
2
b
Cash
23800
Accounts receivable
23800
(Received on account)
3
c
Cash
11000
Common stock
11000
(Issue of common stock)
4
d
Salaries payable
7500
Salaries expense
34000
Cash
41500
(Payment of salaries)
5
e
Miscellaneous expenses
22400
Cash
22400
(Payment of miscellaneous expenses)
6
f
Equipment
13000
Cash
13000
(Purchase of equipment)
7
g
Dividend
2750
Cash
2750
(Payment of cash dividend)
8
1
Salaries expense
830
Salaries payable
830
(Salaries accrued)
9
2
Depreciation expense
2100
Accumulated depreciation
2100
(Depreciation on equipment accounted)
Closing entries are shown below.
KARLIN COMPANY
Sl.No.
Event
General Journal
Debit
Credit
1
Service Revenue
114000
Income summary
114000
(Closing of service revenue acount)
2
Income summary
34830
Saalries expense
34830
(Closing of salaries expense account)
3
Income summary
22400
Miscellaneous expense
22400
(Miscellaneous expense account closed)
4
Income summary
2100
Depreciation expense
2100
(Depreciation expense closed)
Unadjusted trial balance
KARLIN COMPANY
Unadjusted Trial Balance
Acount
Debit
Credit
Cash
66650
Accounts Receivable
23400
Equipment
34000
Accumulated Depreciation
6300
Salaries payable
0
Common stock
55000
Retained earnings
5150
Service revenue
114000
Salaries expense
34000
Miscellaneous expense
22400
Depreciation expense
T o t al
180450
180450
Adjusted trial balance

KARLIN COMPANY
Adjusted trial bal.
Acount
Debit
Credit
Cash
66650
Accounts Receivable
23400
Equipment
34000
Accumulated Depreciation
8400
Salaries payable
830
Common stock
55000
Retained earnings
5150
Service revenue
114000
Salaries expense
34830
Miscellaneous expense
22400
Depreciation expense
2100
T o t al
183380
183380

Post closing Trial Balance

KARLIN COMPANY
Post closing trial balance
Account
Debit
Credit
Cash
66650
Accounts Receivable
23400
Equipment
34000
Accumulated Depreciation
0
8400
Salaries payable
0
830
Common stock
0
55000
Retained earnings
0
59820
Service revenue
Salaries expense
Miscellaneous expense
Depreciation expense
T o t al
124050
124050
Ledger accounts are shown below

Cash
Accounts Receivable
Equipment
Debit
Credit
Debit
Credit
Debit
Credit
Beg. Balance
31700
Beg. Balance
13000
Beg. Balance
21000
a
79800
7500
d
a.
34200
23800
b
f
13000
b.
23800
34000
d
End. Bal.
23400
End. Bal.
34000
c.
11000
22400
e
47200
47200
34000
34000
13000
f
End. Bal.
23400
End Bal
34000
2750
g
End. Bal.
66650
Salaries payable
Common stock
146300
146300
Debit
Credit
Debit
Credit
End bal
66650
Beg. Balance
7500
Beg. Balance
44000
Accumulated depreciation
d
7500
830
1
11000
c
Debit
Credit
End.bal.
830
End Bal.
55000
Beg. Balance
6300
8330
8330
55000
55000
2100
End bal
830
End Bal.
55000
End Bal.
8400
8400
8400
Service revenue
Salaries expense
End bal
8400
Debit
Credit
Debit
Credit
Retained earnings
79800
a
d
34000
Debit
Credit
34200
a
1
830
Beg. Balance
7900
Income statement
114000
Income statement
34830
g
2750
114000
114000
34830
34830
Inc.Summary
54670
End bal
114000
End bal
34830
End.Bal.
59820
62570
62570
Dividend Payable
Depreciation expense
Debit
Credit
Debit
Credit
Miscellaneous expense
g
2750
2
2100
Debit
Credit
g
2750
e
22400
2750
2750
Inc.Statement
22400
22400
22400
Income Summary
Debit
Credit
Service revenue
114000
Salaries expense
34830
Miscellaneous exp.
22400
Depreciation
2100
Retained earnings
54670
114000
114000