Describe systems' approach to Project Management.
Expert Answer
Under the systems approach, a project is viewed as a system which transforms inputs into output. The input to this system is the resources such as the human resources, capital, conceptual or physical resources. The output side is the project objectives consisting of the desired goods or services according to customer's preference. The following illustration explains the systems approach.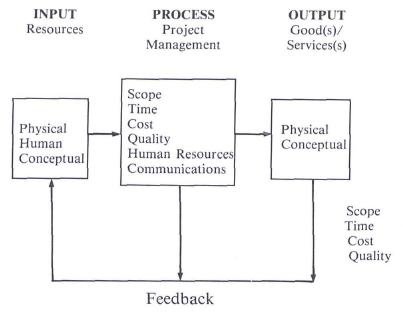 Don't use plagiarized sources. Get Your Custom Essay on
Question & Answer: Describe systems' approach to Project Management……
GET AN ESSAY WRITTEN FOR YOU FROM AS LOW AS $13/PAGE
The project management process is related to scope, time, cost, quality, human resource, and communication management. All of these can be further illustrated in the form of input-process-output framework. When we consider scope management, it is the planning and control of project scope consistent with the objectives of the project.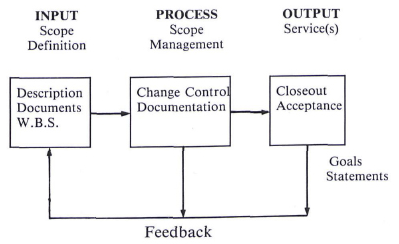 The input to scope management is the scope definition which is the description, documentation, and WBS for the project. The process is the change control documentation and the output is acceptance of the scope by all the stakeholders. Similarly, Quality, Cost, and Time management is seen as input-process-output in the systems approach as shown below –