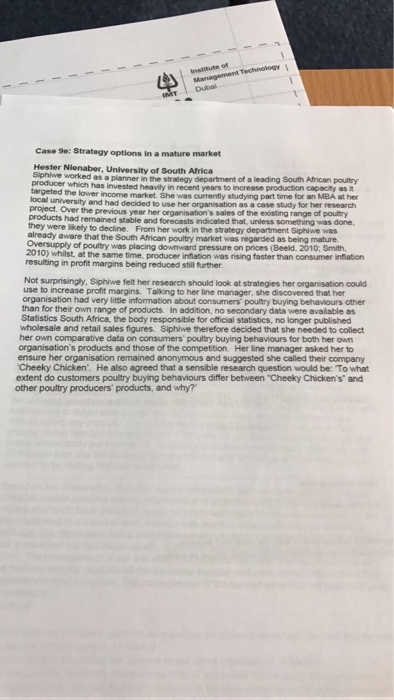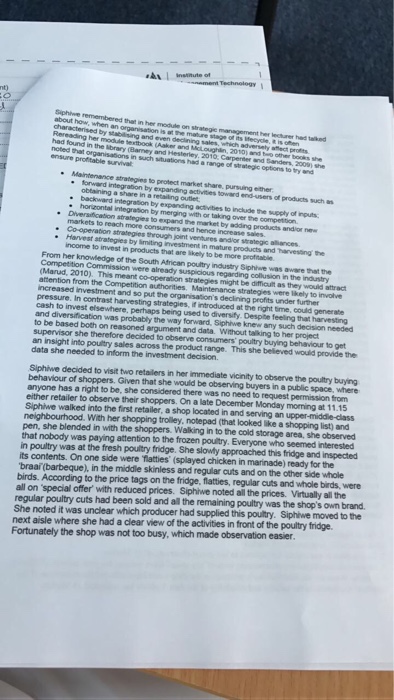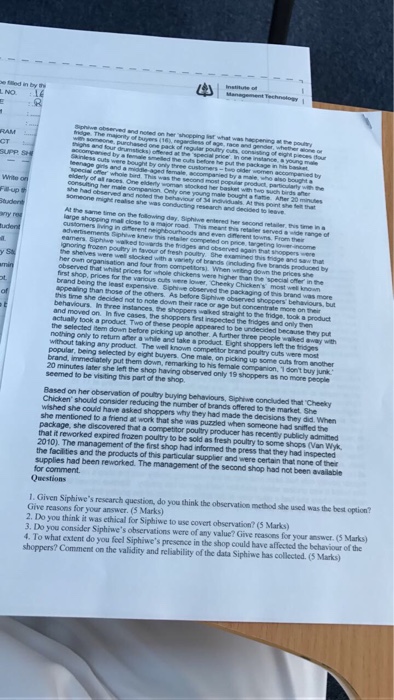 Solve all given question plz asap
Case 9e: Strategy options in a mature market Hester Nienaber, University of South Africa Siphlwe producer which worked as a planner in the strategy department of a leading South Atrican poultry has invested heavily in recent years to increase production capacity as ted the lower income market. She was currently studying part time for an MBA at her had decided to use her organisation as a case study for her research local university and project. Over the Over the previous year her organisation's sales of the existing range of poultry products had remained stable and forecasts indicated that, unless something was done they were likely to decline. From her work in the strategy department Siphiwe was already aware that the South African poultry market was regarded as being mature oversupply of poultry was placing downward pressure on prices (Beeld, 2010; Smith, 2010) whilst, at the same time, producer inflation was rising faster than consumer infiation resulting in profit margins being reduced still further Not surprisingly, Siphiwe felt her research should look at strategies her organisation coul organisation had very little information about consumers poultry buying behaviours cther use to increase profit margins. Talking to her line manager, she discovered that her than for their own range of products. In addition, no secondary data were available as Statistics South Africa, the body responsible for official statistics, no longer published wholesale and retail sales figures. Siphiwe therefore decided that she needed to collect her own comparative data on consumers poultry buying behaviours for both her own organisation's products and those of the competition. Her line manager asked her to ensure her organisation remained anonymous and suggested she called their company Cheeky Chicken. He also agreed that a sensible research question would be: To what other poultry producers' products, and why? extent do customers poultry buying behaviours differ between "Cheeky Chicken's" and
Expert Answer
Answer
Ans 1: Siphiwe's observation indicates that the buyers were price sensitive to the items, and bought the lowest priced items first ( poultry cuts in this case.) They preferred fresh poultry to the frozen one, and were more inclined towards the other brands as compared to " Cheeky chicken", despite the latter being the least expensive. The researcher should have found out the answers from the customers for this behavior. Without knowing the insights of customers, no recommendations can be made to increase the profitability of the company. She should have found answer to the question that why cheeky chicken is finding it difficult to sell its poultry cuts despite being least expensive and visually attractive. The exercise fulfills the purose partially,knowing the behavior, but missing insights. The only recommendation that can be made is to reduce the low selling items in favor of high selling ones.
Ans 2: There is nothing wrong in observing the behavior of customers,as long as it is not affecting the business of the store. Anyways, it was not against anyone's interests.
Don't use plagiarized sources. Get Your Custom Essay on
Question & Answer: Solve all given question plz asap Case 9e: Strategy options in a mature market…..
GET AN ESSAY WRITTEN FOR YOU FROM AS LOW AS $13/PAGE
Ans 3: The observations led to some insights about buying behavior, but did not reveal the reasons for the same. To concrete her claim, the researcher needs to repeat the exercise at some other stores, because the sample size of two stores is to small to make any meaningful conclusions. The exercise must also include interviews of some buyers ( She can ask her questions about their buying behavior outside the store after introducing herself as a studet of MBA, doing research on the topic) to make it complete.
Ans 4: It should not have made any difference to the buying behavior as no one knew or bothered to know her credentials. The data collected was genuine, but too small a sample to make any meaningful conclusion about the study of poultry buying behavior that can make help the company to change its strategy.