Hello, everyone. I have to prepare a PowerPoint presentation about the company Procter & Gamble, for the course called Strategic Management. Thank you in advance and I would really appreciate your help. Here is the structure I need to follow: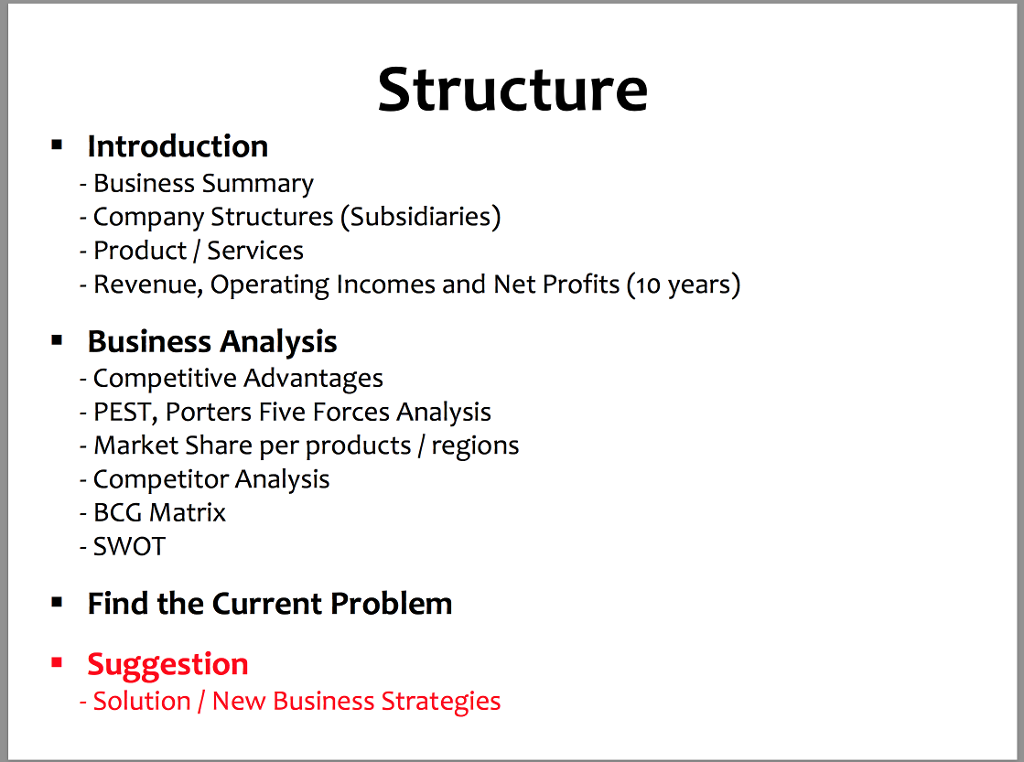 Don't use plagiarized sources. Get Your Custom Essay on
Question & Answer: Hello, everyone. I have to prepare a PowerPoint presentation about the company…..
GET AN ESSAY WRITTEN FOR YOU FROM AS LOW AS $13/PAGE
Structure Introduction Business Summary Company Structures (Subsidiaries) Product/ Services Revenue, Operating Incomes and Net Profits (10 years) Business Analysis Competitive Advantages PEST, Porters Five Forces Analysis Market Share per products / regions Competitor Analysis BCG Matrix SWOT Find the Current Problem Suggestion Solution /New Business Strategies
Expert Answer
Procter & Gamble
Introduction:
Procter and Gamble is the multinational manufacturer of product ranges including family, personal and household care products.
The company finds big potential in life's little moments.
P&G make the products that are related to basic necessity of life.
Company Structure (Subsidiaries)
P&G is one of the largest and amongst the fastest growing consumer goods companies in the world.
The roots of the company were planted in 1837 by William Procter and James Gamble later the company was incorporated in Ohio in 1905.
There organization structure is comprised of Global Business Units (GBUs), Global Operations, Global Business Services (GBS) and Corporate Functions (CF).
The Company is having about 445 registered subsidiaries.
With theses registered subsidiaries P&G sell their products in more than 180countries and territories
Product/Services
Under GBU's comes five segments namely Beauty; Grooming; Health Care; Fabric Care and Home Care; and Baby Care and Family Care.
Global operations is comprised of Market Development Organization (MDO), i.e. responsible for developing market plans at the local level.
Global Business Services provides technology, processes and standard data tools for enabling the GBUs and the MDO.
Corporate Functions deals with company-level strategy and portfolio analysis, external relations, tax, corporate accounting, treasury, human resources and legal, governance, and other centralized functional support.
P&G is comprises of many individual brands in different categories for different segment of market. each serving customers in different ways.
Some of its top brands are Ambipur, Ariel, Bold 2in1, Bounty, Vicks, Swiffer, Tide, Rejoice, Gillette, Pampers, Oral-B, Olay, Old Spice Luvs, Head & shoulders etc.
Revenue, Operating Incomes and Net profits:
| | | |
| --- | --- | --- |
| Annual Rates (per share) | 10 yrs | 5 yrs |
| Revenue Growth (%) | -0.10 | -3.80 |
| Operating Income Growth (%) | -0.70 | 1.40 |
| Gross-Profit-to-Asset % | 26.10 | |
Business Analysis
Competitive Advantages:
In a rapidly changing market place, building an innovative culture enabled Procter & Gamble to maintain its competitive advantage.
The brand name that organization has created also gives it added advantage
Go-to-Market Capabilities is another strengths that creates competitive advantage.
Understanding consumer behavior
Maintaining high quality of products.
PEST Analysis:
It is used to determine that how the external environment affects the business.
Political environment:
The P&G Political Action Committee (P&G PAC) is registered with the U.S. Federal Election Commission (FEC)
Its operations are transparent and compliant with all applicable laws.
It is governed by set of by laws.
Environment
P&G supports the goals of Climate R.E.S.O.L.V.E. (Responsible Environmental Steps, Opportunities to Lead by Voluntary Efforts).