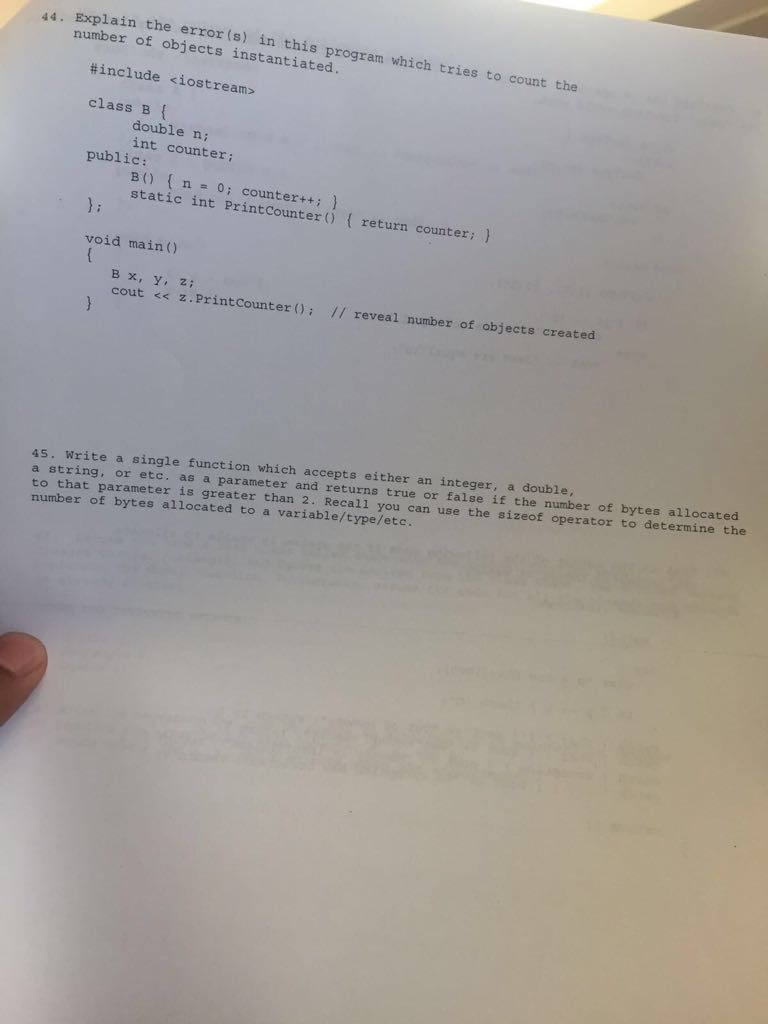 Explain the error(s) in this program which tries to count the number of objects instantiated. #include class B { double n: int counter: public: B () { n = 0: counter++: } static int PrintCounter() { return counter: } }: void main () { B x, y, z: cout
Expert Answer
Don't use plagiarized sources. Get Your Custom Essay on
Question & Answer: Explain the error(s) in this program which tries to count the number of objects instantiated. #include class…..
GET AN ESSAY WRITTEN FOR YOU FROM AS LOW AS $13/PAGE
(44)
Identifying errors:
Error 1 (in the printCounter method definition):
1.   Static functions can only access static members as they are independent of class instantiation. This line generates an error since variable counter is not a static variable
Remedy:
       Mark the variable counter as static
2. Missing static object initialization
Remedy:
       Initialize static variable before main function as:
           int B::counter = 0;
Error 2:
1. In-built functions cout and cin exists in std namespace. Using cout generates an error as code is missing namespace declaration.
Remedy:
   Include namespace as: using namespace std
Updated Program:
#include <iostream>
using namespace std;
class B {
double n;
    //Mark counter as static
static int counter;
public:
B() { n = 0; counter++; }
static int PrintCounter() { return counter; }
};
//Initializing static member counter
int B::counter = 0;
int main()
{
B x, y, z;
cout << z.PrintCounter(); // reveal number of objects created
}
Sample Run:

_____________________________________________________________________________________________
(45)
#include <iostream>
#include <string>
using namespace std;
//Function that accepts element and checks for number of bytes allocated
template <class T>
bool SizeAllocated(T element)
{
//Checking number of bytes allocated
if(sizeof(element) > 2)
{
return true;
}
else
{
return false;
}
}
//Main function
int main()
{
//Declaring and assigning values
int a=20;
double b=23.6;
char d='p';
string c="Hello";
//Displaying size allocated
cout << "n Integer: " << SizeAllocated(a);
cout << "n Double: " << SizeAllocated(b);
cout << "n Char: " << SizeAllocated(d);
cout << "n String: " << SizeAllocated(c);
cout << "nn";
return 0;
}
Sample Run: