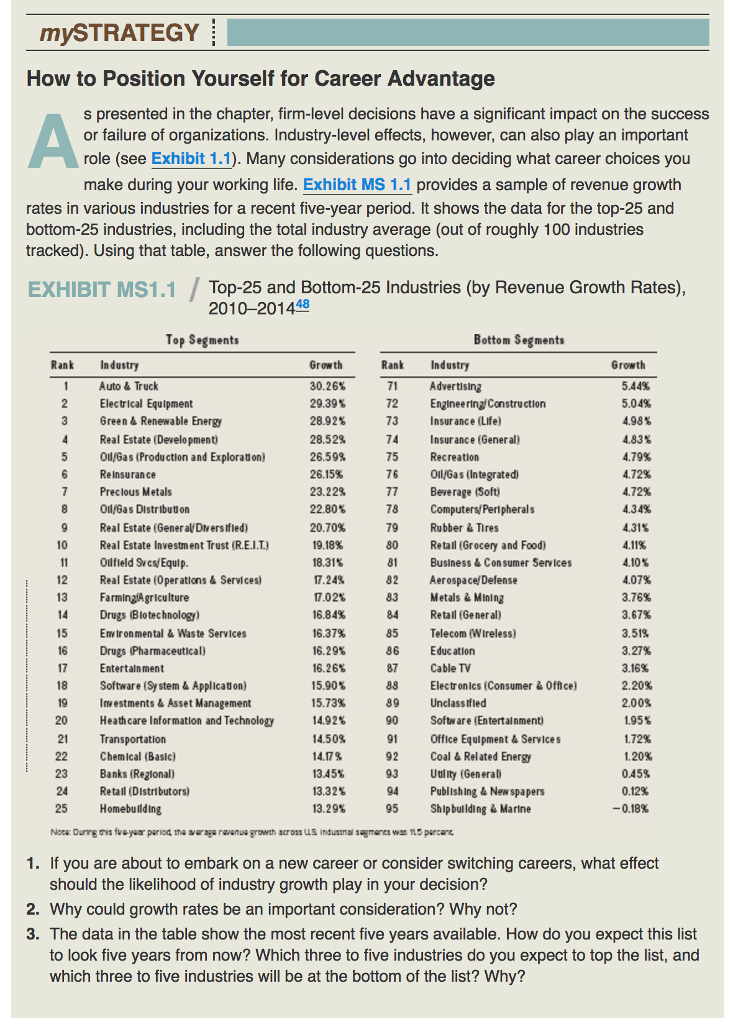 ***NOTE: PLEASE just respond question number 3.
Don't use plagiarized sources. Get Your Custom Essay on
Question & Answer: As presented in the chapter, firm-level decisions have a significant impact on the…..
GET AN ESSAY WRITTEN FOR YOU FROM AS LOW AS $13/PAGE
As presented in the chapter, firm-level decisions have a significant impact on the success or failure of organizations. Industry-level effects, however, can also play an important role (see Exhibit 1.1). Many considerations go into deciding what career choices you make during your working life. Exhibit MS 1.1 provides a sample of revenue growth rates in various industries for a recent five-year period. It shows the data for the top-25 and bottom-25 industries, including the total industry average (out of roughly 100 industries tracked). Using that table, answer the following questions. 1. If you are about to embark on a new career or consider switching careers, what effect should the likelihood of industry growth play in your decision? 2. Why could growth rates be an important consideration? Why not? 3. The data in the table show the most recent five years available. How do you expect this list to look five years from now? Which three to five industries do you expect to top the list, and which three to five industries will be at the bottom of the list? Why?
Expert Answer
Answer
3. I don't expect major structural changes in the list in the next five years. In other words, I expect the same trend to continue for the next five years. However, I think Oil/Gas Production and Exploration will not be in the top 5 of the list. This is because the world will be increasingly focusing on alternative energy sources rather than the traditional oil and gas. So, according to me, the top 5 industries will be:
Auto & Truck
Electrical Equipment
Green and Renewable Energy
Real Estate
Reinsurance
In the bottom five, I think the following five industries will be there:
Cable TV
Coal & Related Energy
Utility (General)
Publishing & News Papers
Shipbuilding & Marines
I included Cable TV in the bottom five as I think cable TV's decline will be faster because of technological change and revolution in digital technologies.