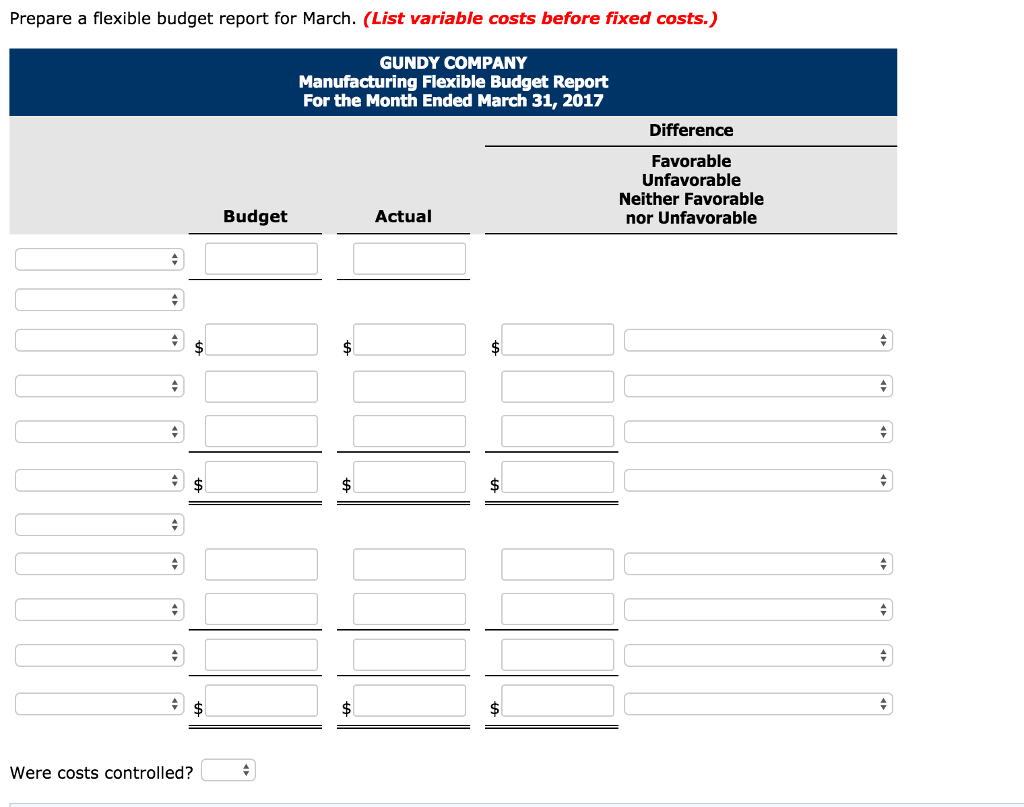 PLEASE FILL IN ACTUAL BLANKS OR MAKE VERY CLEAR. TY!
Brief Exercise 24-5 Gundy Company expects to produce 1,248,000 units of Product XX in 2017. Monthly production is expected to range from 87,300 to 130,100 units. Budgeted variable manufacturing costs per unit are: direct materials 4, direct labor $6, and overhead $11. Budgeted fixed manufacturing costs per unit for depreciation are $6 and for supervision are $1 In March 2017, the company incurs the following costs in producing 108,700 units: direct materials $458,800, direct labor $643,200, and variable overhead $1,203,700. Actual fixed costs were equal to budgeted fixed costs Prepare a flexible budget report for March. (List variable costs before fixed costs.)
Expert Answer
Don't use plagiarized sources. Get Your Custom Essay on
Question & Answer: ACTUAL BLANKS OR MAKE VERY CLEAR. TY!…..
GET AN ESSAY WRITTEN FOR YOU FROM AS LOW AS $13/PAGE
Please find below the answer and please give thumbs up
Statementshowing Computations
Paticulars
Budget
Actual
Difference
Fav or Unfav
No of Units
      108,700.00
                  108,700.00
Variable Costs:
Direct Materials
      434,800.00
                  458,800.00
         (24,000.00)
U
Direct Labour
      652,200.00
                  643,200.00
              9,000.00
F
Variabe Overhead
1,195,700.00
              1,203,700.00
            (8,000.00)
U
Total Variable Costs
2,282,700.00
              2,305,700.00
         (23,000.00)
U
Fixed Costs:
Depreciation
      652,200.00
                  652,200.00
                           –
Neither F nor U
Supervision
      108,700.00
                  108,700.00
                           –
Neither F nor U
Total Fixed Costs
      760,900.00
                  760,900.00
                           –
Neither F nor U
Total Costs
3,043,600.00
              3,066,600.00
         (23,000.00)
U
No costs were not controlled