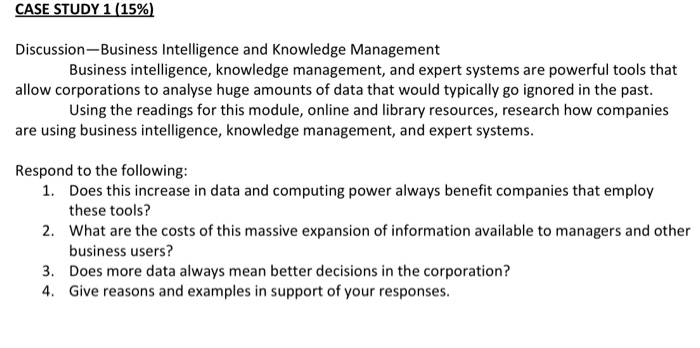 Discussion-Business Intelligence and Knowledge Management Business intelligence, knowledge management, and expert systems are powerful tools that allow corporations to analyse huge amounts of data that would typically go ignored in the past. Using the readings for this module, online and library resources, research how companies are using business intelligence, knowledge management, and expert systems. Respond to the following: Does this increase in data and computing power always benefit companies that employ these tools? What are the costs of this massive expansion of information available to managers and other business users? Does more data always mean better decisions in the corporation? Give reasons and examples in support of your responses.
Expert Answer
 1. Yes. Business Intelleigence platform helps companies to drive their business more effectively through critical insights. This provides useful data analytics driven by artificial intellgence and it drives more value addition. It also provides effective information for decision making and supportive to the overall enhancement of business platform.Knowledge management provides more informations which has colloborative nature and can be useful for high level reporting and skill set analysis. It involves market intelligence, competitors analysis, furturistic business modelling and forecasting. Machine Learning, NLP kind of advanced analytical platform linked with BI tools can give more value addition to the company through reducing operational cost and digilitisation support for real time data analytics.
2.Cost depends on tools to be used. Advanced BI tools and visualisation polatform like SAS, Tableau are expensive while other open platform like R, Python are free of cost. Cost involved in spending time for learning the tools is negligible while compared to the effectivness and output quality which has more insights and business value addition.Massive expansion requires colloborative support from all the fields . It create a centralied platform which colect useful data from all the points ( like manufactruing, distribution, services etc) and make a centralised system out of it.
3.More data doesnt always means it can create valuable output. So data finalisation and profiling is required , like which data can create more useful information which helps in preparing report and or creating valuable insights. Thus depends on trustworthy data source, quality of data and purpose of analysis data size to be measured. All data should not be taken or analysed for all purposes.
Don't use plagiarized sources. Get Your Custom Essay on
Answered! Discussion-Business Intelligence and Knowledge Management Business intelligence, knowledge management, and…
GET AN ESSAY WRITTEN FOR YOU FROM AS LOW AS $13/PAGE
4.To build a platform which used to create output based on productivity, total spend and performance evaluation., Business Intelligence platform or BI base web applocation is useful. At the same time to enhance more outpout through statistical inference and analytics modelling, scenario building it is always advisable to use knowledge based system and for advanced robotis, digitilisation stuffs requirement NLP Machine learning to be incorporated which needs a mix of BI, Knowledge system and expert management system in place.