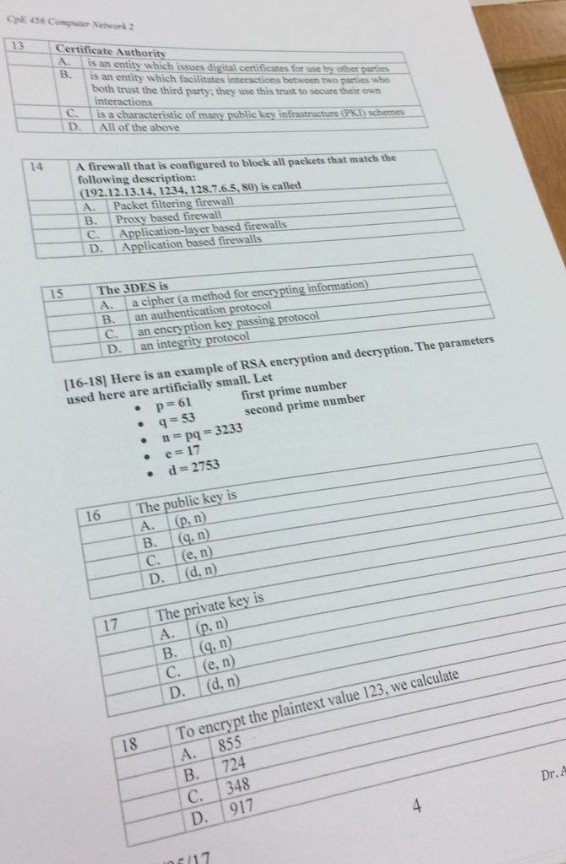 network q
Don't use plagiarized sources. Get Your Custom Essay on
Answered! Certificate Authority A. is an entity which issues digital for use by other parties B. is an entity which facilitates…
GET AN ESSAY WRITTEN FOR YOU FROM AS LOW AS $13/PAGE
Certificate Authority A. is an entity which issues digital for use by other parties B. is an entity which facilitates interactions between two parties who both trust the third party they trust their own interactions C. is a characteristic of many public key infrastructure (PKI) schemes D. All of the above A firewall that is configured to block all packets that match the following description: is called 128, 7 A. Packet filtering firewall B, Proxy based firewall layer based firewalls C. Application- firewalls D. Application based The 3DES is A. a cipher(a method for encrypting information) B. an authentication protocol C. an encryption key passing protocol d. an integrity protocol Here is example of RSA encryption and decryption. The parameters used here are artificially small. Let number p = 61 first prime number q = 53 second prime number n = pq = 3233 e = 17 d = 2753 The public key is A. (p, n) B. (q, n) C. (e, n) D. (d, n) The private key is A. (p, n) B. (q, n) C. (e, n) D. (d, n) To encrypt the plaintext value 123, we calculate A. 855 B. 724 C. 348 D. 917
Expert Answer
 13. D
A certificate entity is a trusted body which gives electronic documents and which in turn verfies ones identity on the world wide web.It plays an important role in secure communication and have a important in public key infrastrucutre.
14. A
Packet filtering firewall will allow to pass those packets whcih are mentioned rather passed in tge firewall policy.
15. A
3DES is a symmetric-keyblock cipher which is applied in the Data Encryption Standard (DES) cipher algorithm thrice to each block.
16. C
The pair (e, n) = (17, 3233) forms the public key and this can be made available to the user who wants to send message.